Kavis Reed sets the bar high on the job site and on the football field
by Lisa Catterall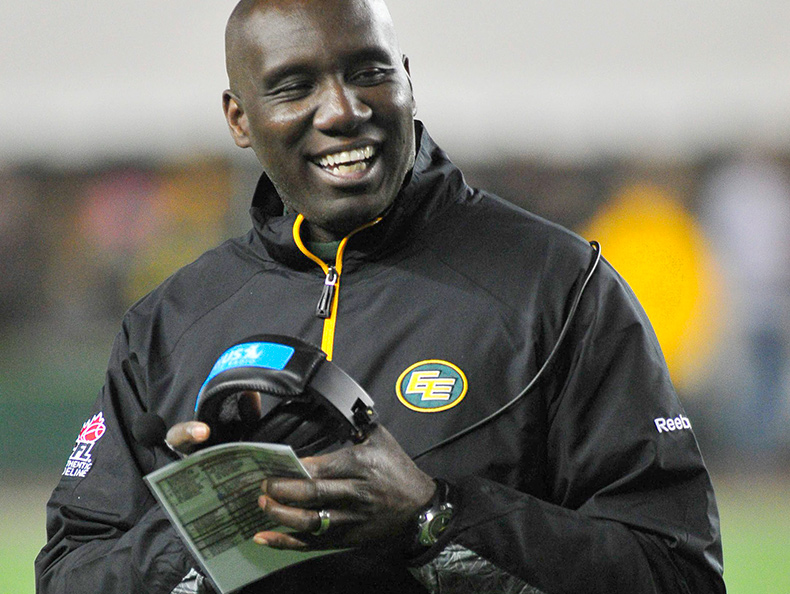 Growing up in South Carolina, Kavis Reed learned that leadership is a key part of success. As a young man, he saw that hard work, respect and the willingness to serve others could encourage great things, both personally and professionally. He saw his grandfather, a self-taught man, work hard to create a better life for his family by building up those around him. His grandfather's determination and iron will provided inspiration for young Kavis as he began his journey in life.
"He never complained about situations and circumstances – he always saw the silver lining in every cloud," Reed says of his grandfather. "He believed in serving others because, in doing so, he'd create a bigger footprint, and a legacy. People always remember those who have pulled them along and supported them. He really understood and lived that."
Leaders also need to have the ability and courage to stand up and be subjected to ridicule. A lot of people want to be liked instead of being right, which is a constant battle in leadership.
Ultimately, this attitude inspired Reed to set his sights high and work hard to reach his goals. He began playing football, and was eventually scouted to play professionally in the Canadian Football League. After an injury took him off the field as a player, he returned as a coach, determined to use his inspirational leadership style to guide his teams along the path to success. He has also earned his National Construction Safety Officer (NCSO) designation. Now, with over two decades of experience in professional football and on construction sites, Reed still believes that building others is the strongest form of leadership. Alberta Toolbox recently sat down with Reed to find out what qualities make for a great leader and uncover the secrets of how leaders can encourage their teams to thrive.
TB: You've been leading professional football teams for over a decade now. How do you define leadership in a team setting like that?
KR: Leadership is about the management of people's trust. People will follow if they know they can trust you. That's the definition of leadership I use, because trust is the one key element that is consistent in every relationship you have – on the team, in your family or friends.
TB: So in order to create that trust, what qualities does a leader need to have?
KR: There are a few key elements that make up any leader. The anatomy of a good leader, in my opinion, includes the foresight to be able to read the people you're working with. Know the people that are under your stewardship – the people that you're leading – understand who they are and what their needs are. It's about them and their needs, and a leader has to be sensitive to that.
Every day, a leader has to continue to grow. As a parent, every day I have to live to be a better parent. That means I have to do things to advance my parenting skills, from reading different materials to sharing and hearing observations and wisdom from others. By continuing to work towards being better, you encourage others to do the same.
Leaders also need to have the ability and courage to stand up and be subjected to ridicule. A lot of people want to be liked instead of being right, which is a constant battle in leadership. Sometimes, it's a challenge, but it's the right thing to be able to stand up for the principle of being right.
Finally, it's about power versus empowerment. If what you're after is power, that's not leadership. The way I think of it is, as a coach, it's not all about me. I want the team to be creative and have ownership in what we do and how we play. Do that, and you'll find people respond a lot more favourably because you are empowering them and helping them to grow.
TB: So it sounds like true leadership is about giving power, rather than taking it.
KR: Absolutely. You'll leave a far better bigger footprint on this earth through building and serving those around you. What's inevitable is that we're all going to die, but we all want to have an impact, to leave a legacy. In a team setting, the way to do that is to build the strength of your team and create the traditions that encourage success. Service is a foundation for that legacy.
TB: What advice would you offer to someone looking to develop their leadership skills?
KR: Understand that building those skills is a process. It starts first and foremost with a self-inventory of what you are and what you are capable of doing. When you take that inventory and see who you are, you can start taking action. You don't walk into a new organization and want to be the vice-president after six months and feel that you deserve it. Try to understand every aspect of the team around you and see where you fit, where your skill set and service is needed. When you start to understand that, that's when you can truly start to lead.