Alberta's new carbon levy presents the construction industry with opportunities
by Glenn Cook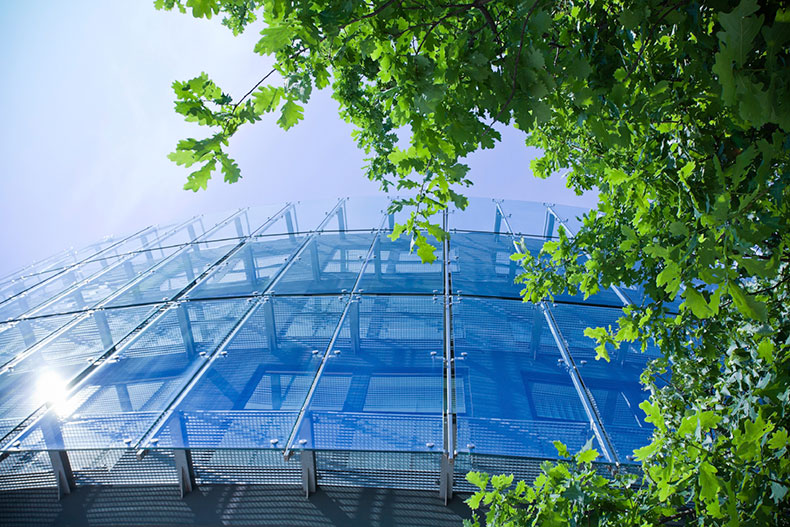 When the calendar flipped over to 2017, several new laws and policies came into effect in Alberta. But the one that garnered the most headlines was the new Climate Change Leadership Plan. This plan includes a carbon levy, which aims to cut down on the province's greenhouse gas emissions by hitting fuel users in the pocketbooks and reinvesting proceeds back into growing and diversifying Alberta's economy.
"It's making such a big difference, and it's transforming the way we're building buildings."
– David Dodge,
chair of Energy Efficiency Alberta
Like other industries, the construction industry has felt some of the effects of the carbon levy, most notably in fuel prices for vehicles and machinery. But David Dodge, chair of Energy Efficiency Alberta, believes the Climate Change Leadership Plan presents builders with at least as many opportunities as it does hurdles, if not more.
"There are probably a fair number of buildings that could be improved through retrofits or renovations. And new buildings can be improved by making them more energy efficient," Dodge says. "Edmonton, in particular, and Alberta are what I like to call virtual centres of excellence for green building. We have some of the best expertise in building super-energy-efficient buildings in Canada right here in Edmonton.
"In fact, I was just at the launch of a new model of net-zero home by Landmark Homes here in Edmonton that is selling for under $400,000. If you had asked me 10 years ago if we could be marketing a net-zero home, a super-energy-efficient home, for under $400,000 and this quickly, I would have bet against it. And yet, here we are."
Energy Efficiency ­Alberta is a new provincial agency that provides programs and services to help people in the province save energy, lower their carbon footprints and save money. Currently, the agency is developing programs to install energy-efficient products (smart thermostats, LEDs and water saving devices) in people's homes at no cost, and also to give rebates to residential homeowners, as well as to commercial and institutional building projects, for installing energy-efficient devices and mechanical systems. Those programs will start rolling out near the end of March.
Dodge recalls talking to a builder about the LEED (Leadership in Energy and Environmental Design) program, which also emphasizes sustainable building practices, and how much easier it is to meet those standards today compared to even a decade ago.
"One thing he told me at the time is that he thinks the evolution in building technologies that has been happening over the last couple of decades is really significant but not well understood. He likened the changes in making buildings more energy efficient to being as significant as adding structural steel 100 years ago," he says. "It's making such a big difference, and it's transforming the way we're building buildings."
According to the provincial treasury board and finance ministry, the construction industry in Alberta will see benefits of the carbon levy in terms of new jobs in a diversified economy. As well, for smaller companies, the provincial small business tax rate was reduced by one-third effective January 1, which will likely offset any carbon levy costs incurred.
Costs to construction companies as a result of the carbon levy should be minimal, the treasury board and finance ministry wrote in an email to Alberta Toolbox. (The ministry was unable to provide someone to interview on this topic prior to deadline.) Fuels are likely the biggest hit, with ­diesel taxes going up 5.35 cents per litre at the start of the year and gasoline taxes ­going up 4.49 cents per litre.
However, the carbon levy also opens up possibilities for construction companies to be taken advantage of under its guise. The ministry stresses that it is up to individual suppliers to determine how much they charge construction companies for materials, and that, if suppliers choose to pass carbon levy costs on to their customers, they may do so by explicitly charging a fee or by building the levy into the final price. However, if a company suspects a supplier is using the carbon levy as an excuse to price-gouge, they can file a consumer complaint through Service Alberta's website at servicealberta.gov.ab.ca/file-a-complaint.cfm. They can also get more information through the Alberta government's Climate Levy helpline at 310-0000 (toll-free in Alberta).
Construction companies should also be prepared, the ministry writes, to provide information to customers about energy-efficient features that can be worked into new builds, like insulation with higher R-ratings, more efficient heating and cooling systems, and more efficient windows.
These features are the sorts of things Energy Efficiency Alberta hopes to educate people about and encourage through their upcoming rebate programs, Dodge says. He adds that the agency has already started working on the design of a second wave of energy efficiency programs.
"As you develop an energy efficiency program, these are the low-hanging fruits you do at the beginning because it's a big return, it's a new market and people love them," he says, noting that Alberta is the last jurisdiction in North America to adopt a comprehensive energy efficiency program. "Over the long run, you start to see more sophisticated programs for retrofits and for all kinds of other measures that go a little deeper into energy efficiency."