Communication is the Key to Safety
ACSA's new Communication and Ethics for the Safety Leader course provides the foundation for effective communication
by Toolbox Staff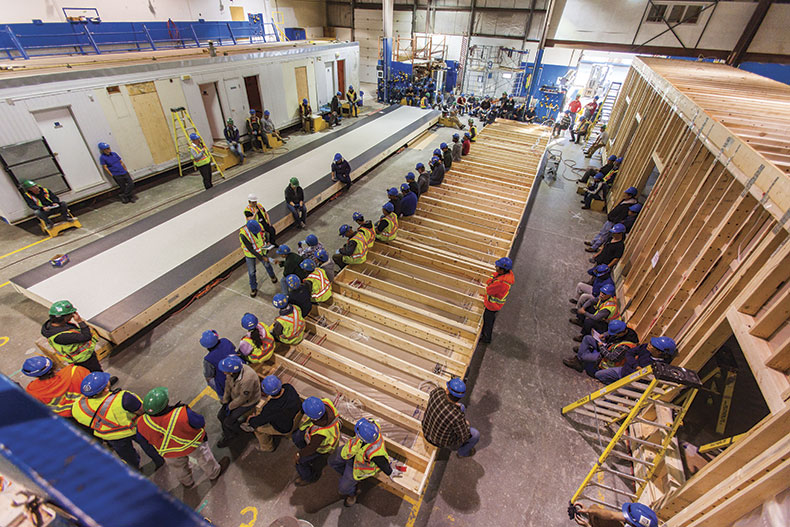 Communication in the work place, whether it be on a construction site or in the office, is critical to ensuring productivity and creating a safer working environment.
At the Alberta Construction Safety Association (ACSA), we feel that communication is a key part of safety, and therefore it is our responsibility to help construction workers learn the key components of effective communication on the job.
The need for a training course that would support better communication became apparent from our conversations with industry and our members, the construction owners and operators of Alberta, in early 2016. Through the help of leading professionals in the field of OH&S Ethics and Communication, as well as the sound knowledge and experience of our course development team, we were able to lay down the foundations for a course that would address the need. We then took the valuable information provided and moulded it to fit the safety leader context. The result is an industry-leading training course that is the first of its kind in the Alberta construction industry.
Launched in January 2017, the ACSA's Communication and Ethics for the Safety Leader course is designed to provide participants with a foundation for effective communication and skills to navigate various situations they may encounter as safety leaders in the field. Participants of this two-day course will gain practical knowledge through group discussions and several activities, including:
identifying perception errors;
develop and evaluate safety messages;
conflict resolution; and,
making difficult decisions.
All of these are common issues faced by safety leaders on the work site. Respectful, clear and concise communication on a construction site is essential to ensuring all stakeholders understand their roles and responsibilities, as well as how to fulfill them in a safe manner.
"Most of the decisions we discuss in this course aren't so much ethical as they are difficult," says ACSA Chief Operating Officer Tammy Hawkins. "There's usually a fairly clear right and wrong. But we discuss difficult decisions: how we make them, how we implement them and how we communicate them."
The intention of this course is to help a person make confident and conscious choices about communication, and to identify the benefits of ethical practices as a safety leader and professional. A safety leader needs to feel confident that she or he can balance emotions and logic to make sound decisions in the workplace. When deciding on the right thing to do for any given situation, the safety leader must try to assess how others will perceive actions and the quality of the decision-making. A safety leader's decisions may affect more than those directly involved in the situation.
"You have the right – in fact, the responsibility – to refuse unsafe work in the workplace. … We try to give people the tools to communicate that in a way where the relationship isn't damaged," Hawkins says.
To add to our focus on communication in safety, the theme of our 25th Annual NCSO Professional Development Conference is Connect. Communicate.
Collaborate. The conference will be held in Edmonton on March 9 and 10 at the Edmonton Marriott at River Cree Resort, and will feature nearly 20 expert speakers from industry, government, academia and other areas, all presenting in their field of expertise but with a focus on communication.
Up to 400 construction safety supervisors, workers and employers will gather for this annual event to further develop their skills and harness new knowledge to help them become better leaders in safety.
Together, with our growing safety community, your ACSA aims to create a construction environment in Alberta that is the safest anywhere. If you are a part of the safety community or would like to join, visit www.youracsa.ca. There, you can also find further information on our new Communications & Ethics course and our NCSO Professional Development Conference. We welcome committed and dedicated safety leaders from all industries and continue to help those wishing to start a career in the safety sector.