Thanks to innovative programs, more and more women are turning to a career in transportation
by Glenn Cook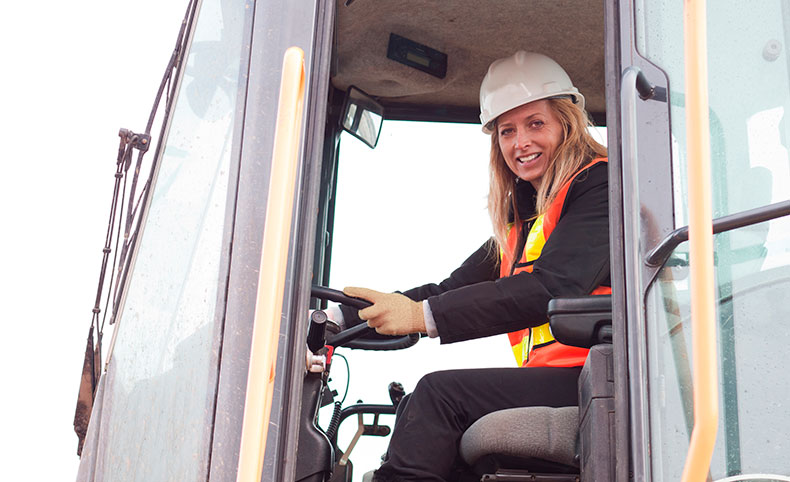 Mykenzee Ramunno was stuck in what felt like a dead-end job and needed a change in her life. That's when she answered the call of the open road.
Ramunno, 22, is a graduate of the Class 3 driver program through Edmonton-based Women Building Futures (WBF). She parlayed her Class 3 licence into a Class 1 licence and eventually into an apprenticeship as a heavy duty mechanic with Volker-Stevin in Lethbridge, though she is still on call to drive snow plowing trucks in the winter.
"Some of my friends are struggling with where they're at with their careers; you just have to go and commit to it."
– Mykenzee Ramunno, graduate of the Class 3 driver program
"I was working cutting meat at a [grocery store] and I was so unhappy with my life. I just needed something different," says the self-described tomboy who grew up on a farm, driving equipment with her grandpa. "That opportunity came up at that point in my life, and I was immediately like, 'This is meant to be. This has to happen.' "
Christine Wiles-Moss was also ready for a change. After a long career in the Canadian Forces, she wanted to move to Fort McMurray to be with her fiancé. But she needed a job first.
Luckily, her time with the military gave her some experience operating equipment, so she decided to build on that through WBF's heavy equipment operator program. Today, she is happily married and drives giant earth-moving trucks in the oil patch.
"For me, it was a totally different lifestyle. I wasn't used to the shift work and the long days; it's a 12-hour day, but by the time you wake up, catch the bus and then come home, it turns out to be a 15-hour day. The part of the military that helped me was the ability to hang in there; you have to be adaptable. In order to be adaptable, you sometimes have to give it time. It took time for me to become adaptable and condition myself to the work," says Wiles-Moss, 50.
Jacqui Andersen, WBF director of industry relations (acting), says these programs attract a wide demographic of women, most of whom are looking for career changes. "A lot of them just love driving. They love operating equipment. Some women were raised on farms. There's definitely a lifestyle thread that goes with it; you can make good money, and you work hard, but there's also a lifestyle component – long shifts when you are working, but the potential is there for time off, too," she says. The Class 3 program started in 2014 and a new Class 1 program will begin this summer, while the heavy equipment operator program has been around in various iterations since 2011.
And there is also a lot of demand from industry for drivers. "People are going to be retiring in droves, so there's going to be a labour shortage," Andersen says. "Industries are recognizing that, and they're coming to us, recognizing that women – and indigenous women, specifically – make up Alberta's largest untapped labour force."
When it comes to safety, Wiles-Moss says her biggest concern is how prepared she is to do her job. "The biggest thing is mental and physical fatigue because it is such long hours. You're wondering, if I'm tired, is the other person just as tired? It's just getting through the end of the shift more so than the piece of equipment, because it's up to the operator that's operating that piece of equipment to be safe."
Meanwhile, when Ramunno gets behind the wheel of a plow, she looks outward for safety. Her biggest concern on the roads is the behaviour of other drivers.
"Just don't be in such a rush, especially when weather conditions are terrible," she advises. "When I'm driving, it's never good weather. The roads are never good when I'm out there. If I'm out plowing the roads, it's because there's a safety concern for the public."
Still, Ramunno wholeheartedly recommends the training she received through WBF to other women looking to make their own career changes. "Go for it! Some of my friends are struggling with where they're at with their careers; you just have to go and commit to it. Women Building Futures is there for you every step of the way."