by Toolbox Staff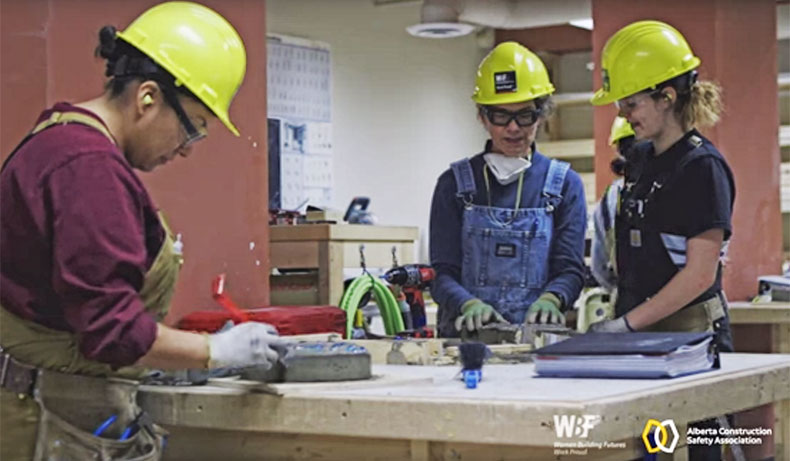 The Alberta Construction Safety Association is teaming up with Women Building Futures to get more women working in the trades, and do so safely.
The two organizations announced a new partnership at the first installment of their joint Breakfast with the Leaders series on February 8. This partnership will allow WBF students, alumni and staff to access training programs and services offered by ACSA.
"We are facing a national challenge, as 250,000 construction tradespeople are expected to retire and we are left with a tax base lost from the mass exodus of these high-income earners that these upcoming retirements will bring," said outgoing WBF chief executive officer JudyLynn Archer in a press release.
"This does, however, present a tremendous opportunity for Canadian women working in the industry. Together with the ACSA, we plan on providing as much assistance as we can to attract and prepare women with a safety mindset, giving them the best chance to gain employment in Canada's construction and maintenance workforce.
"With approximately 36,400 construction jobs being done by women across Alberta, and jobs in the sector expected to grow steadily over the next decade, there's more opportunity now than ever for women with a strong safety mindset to enter this sector and make a positive change. The impact this partnership has on safety in the industry could be a real game changer."
Archer spoke at the breakfast event alongside ACSA chief operations officer Tammy Hawkins.
"Diversity in all areas is today's reality in our workplaces," Hawkins said in the press release. "It enhances our skill sets and our daily interactions. Through this partnership, we wish to convey our commitment to Alberta workplaces, and our belief in the ability of each participant to contribute meaningfully and safely to our workforce.
"This partnership will make a real difference for women across Alberta. Our efforts will empower them to succeed in non-­traditional careers, inspiring positive economic change for women, and forever transforming the face of construction in this province."
Tips for maintaining Safety Glasses
Clean safety glasses daily according to the manufacturer's instructions. Avoid rough handling that scratches lenses.
Store your glasses in a clean, dry place where they can't fall or be stepped on. Keep them in a case when they're not being worn.
Replace glasses that are scratched, pitted, broken, bent or don't fit well. Damaged glasses interfere with vision and don't provide adequate protection.