Roofing safety supervisor not just looking out for his employees through his work with Medicine Hat
rescue helicopter society
by Glenn Cook, with files from Julie-Anne Cleyn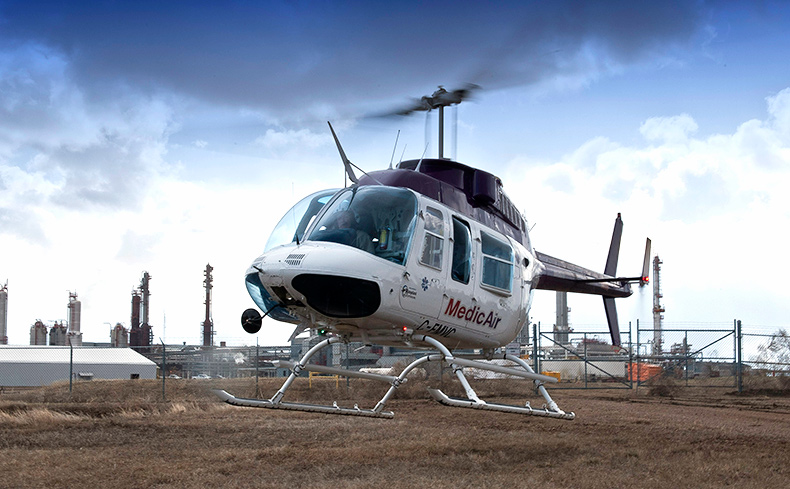 In his day job, Steve Brosnikoff makes sure his workers are safe high up – he's the safety supervisor for Plato's Superior Roofing Ltd. in Medicine Hat. So perhaps it's fitting that one of his interests outside work also involves heights and keeping people safe and healthy.
Brosnikoff is the past chair of the ­Alberta Construction Safety Association's ­Medicine Hat Regional Safety Committee (MHRSC) and also served for a couple of years as a volunteer director on the board of Helicopter Air Lift Operation (HALO), a medical rescue helicopter society serving southeast Alberta and southwest ­Saskatchewan. The HALO helicopter has been in operation since 2007, flying more than 200 missions in that time to help first responders transport injured people to local and regional emergency health care facilities during daylight hours.
"They started the HALO program because STARS [Shock Trauma Air Rescue Society, which operates air ambulances throughout Western ­Canada] figured it wasn't worthwhile money- wise to set up down here, and if they did they would maybe be here once a week, maybe," Brosnikoff recalls. "They would split it between ­Lethbridge and Medicine Hat, and they'd only be here once a week. But there was a definite need due to our terrain down here, with the coulees and rough areas and remote areas, so they decided that they would start this program."
In his time as a director, Brosnikoff says he mainly worked to increase awareness about HALO and to raise funds to keep the helicopter in the sky. The board relies on donations from individuals and corporate sponsors to fund operations, with no funding coming from any level of government. The MHRSC donated $2,500 to sponsor HALO in 2015.
It's stories like that of Edwin Camps that illustrate why those efforts are ­badly needed in that corner of the province. Camps was injured in a farming ­accident, when the pin from a truck shot up into the tractor where he was sitting and struck him in the neck, breaking it in four places and shattering his jaw.
HALO responded and flew Camps to the Lethbridge airport, where they met up with a STARS air ambulance that transported him to Calgary.
"He is a walking miracle to this day!" his wife Cayley writes on the HALO website. "Edwin blew the doctors away with his recovery and spent 26 days in the hospital. He has a long road ahead of him but if it [hadn't] have been for HALO, my husband would not be here to see his son grow up."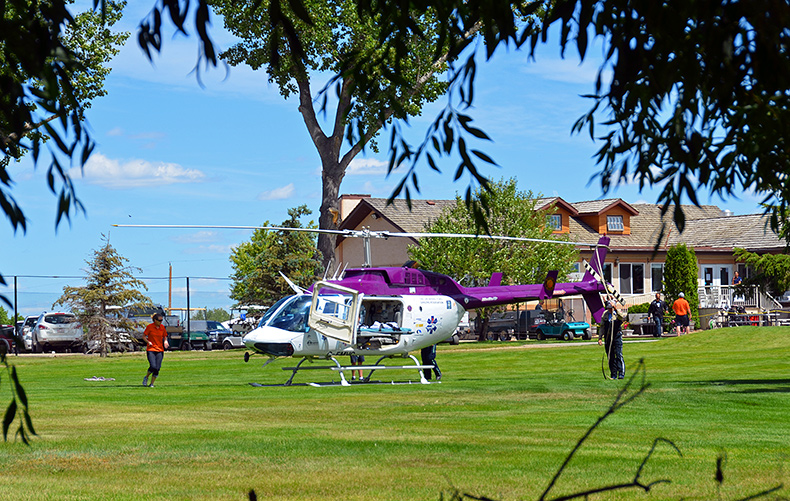 The HALO helicopter is a Bell 206L-2 LongRanger, which has been outfitted to carry a stretcher, a pilot and two paramedics. It is owned by Les Little, who leases it to the Southern Alberta MedicAir Society for a low rate. It can fly 450 kilometres at a top speed of 193 km/h before needing to refuel and, due to its lighter weight and the positioning of its air intakes, it can land closer to accident scenes than other helicopters can.
"This one can actually land right in the coulee, a couple hundred feet away from where the person has been stabilized, and they can get them really quickly onto the helicopter and back to Medicine Hat or wherever the best, quickest hospital is for them," Brosnikoff explains.
Currently, though, the helicopter doesn't have the equipment needed to fly at night, but Brosnikoff is hoping fundraising efforts pay off in that area soon. He is also hoping to partner with STARS to keep HALO in the air and keep residents of southeast Alberta safe.
"We'd like to become a pilot program of STARS, because they've spoken about that. They are in contact with STARS and what they're doing and how they can better themselves with fundraising and how to make the program better. … It'd be where STARS and HALO would work together," he says.