Partners in Road Construction Safety ask Albertans to pledge their commitment to slow down in construction zones
by Michelle Lindstrom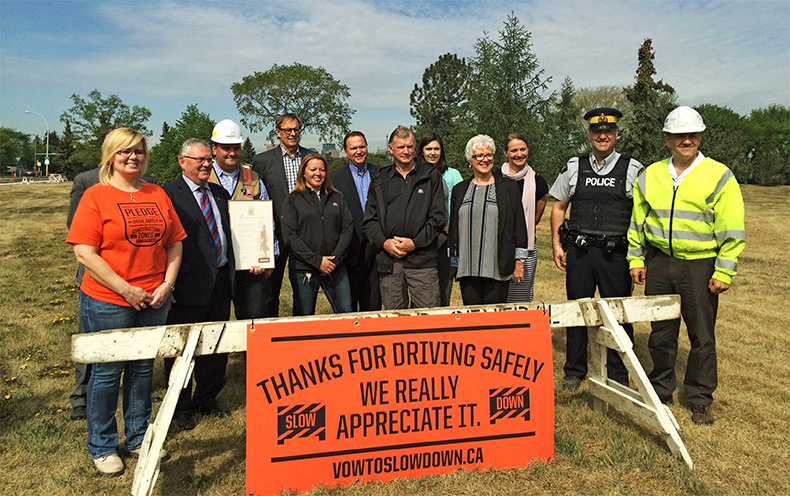 You've seen the graphic images. You've heard the stats. You know that speed kills. But are you ready to take the pledge and vow to slow down in construction zones?
"We wanted to change the conversation…
why don't we reward and applaud good behaviour?"
– Craig Redmond, creative director of RED The Agency
The Partners in Road Construction Safety (PIRCS) think drivers are numb to prior messaging and want to take a different approach this construction season. Campaign statistics from the past two years show that 46 per cent of Albertans are still not slowing down through road construction sites, even though awareness is high and motorists can easily recite campaign messages like, "Don't RIP through construction zones," for example.
"There's no point to having an awareness campaign if people continue to break the law and continue to get hurt and, in some cases, killed," says Craig Redmond, the creative director of RED The Agency, which has worked on this awareness campaign with PIRCS for the past few years.
"We wanted to change the conversation and move away from the more typical messaging approach, which is, 'You shouldn't do this,' and then list all the ramifications," Redmond continues. "This year, we thought, instead of condemning bad behaviour, why don't we reward and applaud good behaviour? Because the whole pay-it-forward mentality has really taken hold in society, like the Ice Bucket Challenge for ALS."
PIRCS formed in 2002 to increase safety for road construction workers and change drivers' attitudes with an annual awareness campaign. The partnership includes Alberta Transportation, the Alberta Construction Safety Association, the City of Edmonton, the Alberta Roadbuilders & Heavy Construction Association, the City of St. Albert, Strathcona County, EPCOR, the Edmonton Police Service, the City of Calgary, the Calgary Police Service, 511 Alberta and Alberta Labour.
This year's campaign centred around asking Alberta's drivers to "Vow to Slow Down" by taking an online pledge that stated: "I pledge to make roadside construction zones safer for everyone. That means I'll be driving the posted speed limit and paying attention to all hazards whether workers are present or not."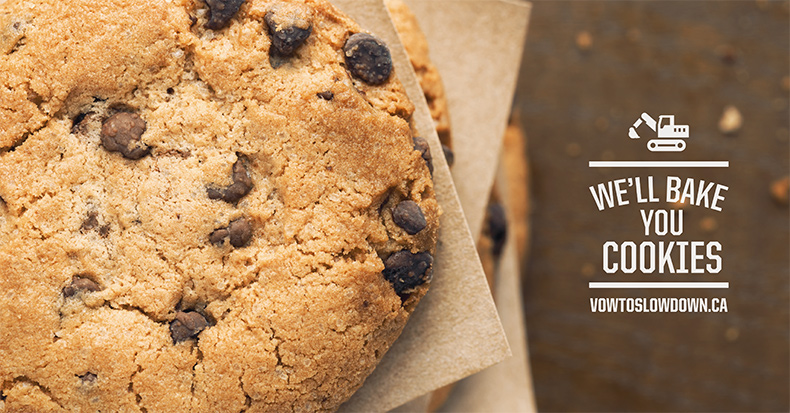 In early June, the total number of Alberta motorists who took the pledge was close to 300. By mid-November, that number had skyrocketed to more than 7,200, almost three times the stated goal of 2,500.
"People want to be a part of something good and they feel good about being part of a larger group," Redmond says. "There's the fear of missing out if they don't participate."
In the past, the PIRCS road safety campaigns used traditional methods of getting the message out, including billboards and radio ads, but there was no real call to action for motorists
or engagement with them, explains Heidi Harris-Jensen, Director of External Affairs for the Alberta Roadbuilders & Heavy Construction Association (ARHCA).
"We wanted to make more of a two-way relationship with the motorists, which is why we went with the pledge idea asking the general public to go to our website, Facebook page or Twitter and take the pledge to drive safely through construction zones," Harris-Jensen says. "Our job is to thank these individuals, and to do so, we'll send them a voucher for a cookie or coffee."
"Slowing down for an extra two to five minutes through these zones is such a small act, but it's such an important one and the outcome is positive for everyone."
– Heidi Harris-Jensen,
Director of External Affairs (ARHCA)
It becomes more of a grassroots neighbourly message of what you would do for a person you know, and it connects with all Albertans instead of targeting a certain demographic with a negative spin. For example, Redmond says last year's campaign spoke directly to those the statistics indicated were the worst perpetrators of this type of traffic offence – young males between 18 and 25 – and listed how losing their car could ruin their summer or force them to live with their parents.
"We're really hoping the positive spin engages people and makes them think about the real people who are working in these zones," Harris-Jensen says. "Slowing down for an extra two to five minutes through these zones is such a small act, but it's such an important one and the outcome is positive for everyone."
The ARHCA is made up of drivers, too, Harris-Jensen says, who understand the frustration road construction brings when trying to get from Point A to Point B. She's also aware that some contractors are better than others in controlling the traffic through their construction zones to minimize delays.
"From our end, we take responsibility for [delays] and encourage our contractors to work on continuous improvement when it comes to minimizing the inconvenience to the motorist," Harris-Jensen says. "We work with our government partners about doing some nighttime work, working outside of peak hours and we're attacking it from a lot of different directions with the hope for a positive outcome."
Road construction crews are made up of people we know and would want to keep safe, which makes the reality of what speeding can do hit closer to home. By building a relationship with motorists through this campaign, Harris-Jensen hopes the realization that construction workers are our neighbours and fellow soccer parents will connect with Alberta's driving population.
Dan MacLennan, Executive Director of the Alberta Construction Safety Association (ACSA), says that, like many people, he can be a bit resistant to change, and the new direction of the road safety campaign took a little convincing for him. It just hasn't been done this way before, but he's supportive and excited about working with people to provide positive reinforcement.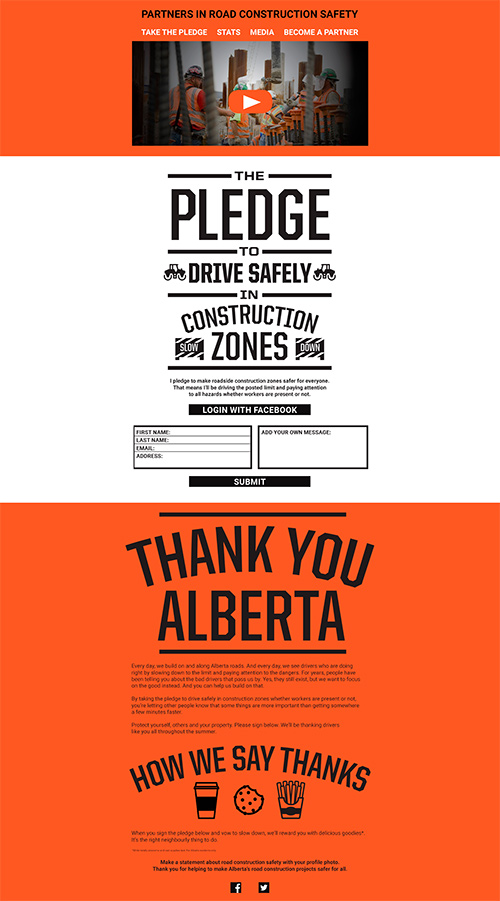 "Some of the things we see on the road are inexcusable," MacLennan says, noting speeding and texting while driving as his main concerns. "I personally was pleased to see penalties for distracted driving strengthened by the province, and am hopeful the new levels help."
Law enforcement and photo radar cannot be everywhere, though, and MacLennan says that we shouldn't need either to make motorists slow down. "I want to see the stats and know we are constantly reminding people that one of the easiest things to do in life when you're driving is to slow down, and this campaign is a really important reminder of that."
Similar to the campaigns of previous years, six speed signs that blink a driver's speed collected data in high-traffic construction zones around Alberta. The signs collected real-time data that is posted online at vowtoslowdown.ca/stats. The data includes the percentage of people speeding through construction zones, how much over the speed limit they were going, what times of day had the most and fewest speeders, and more.
"Fort McMurray and the QEII Highway, Edmonton to Red Deer locations, were hot spots last year because of the traffic volume and the length of the projects," Harris-Jensen says. "Quite often, the contractors – unless it's a really enormous project ­– really try their best to get in and get out within a few weeks so they're not inconveniencing people for months at a time."
"Despite economic challenges and the ups and downs for the economy in Alberta, everybody has stuck to the campaign through all of these years, and I know that our workforce is grateful and feels good about having that support."
– Heidi Harris-Jensen, Director of External Affairs, ARHCA
PIRCS launches its road safety campaign each year just before the May long weekend and wraps things up by Thanksgiving. This year, it launched on May 18 with Edmonton city councillor Ed Gibbons as one of the first people to take the pledge alongside many of the campaign's construction safety partners, including Harris-Jensen.
"It's so great to see a group come together and be so committed and so single-minded in its goal of eliminating collisions, injuries and fatalities in construction zones," Harris-Jensen says. "Despite economic challenges and the ups and downs for the economy in Alberta, everybody has stuck to the campaign through all of these years, and I know that our workforce is grateful and feels good about having that support."
Connect

fb.com/roadconstructionsafety


@saferoadwork


1PRCS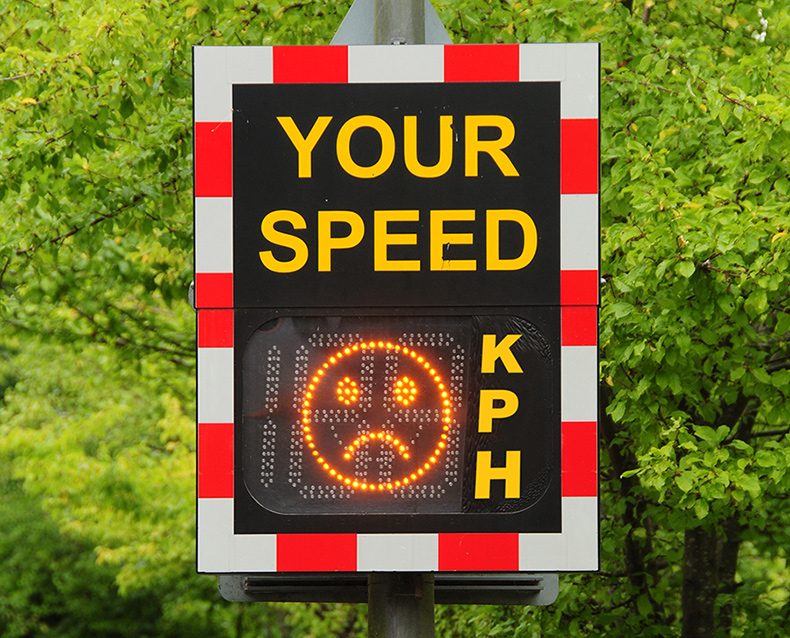 Road Construction Stats
For 2015, according to the speed signs PIRCS posted around the province:
60 per cent of speeders exceeded the posted construction speed limit by 1-10 km/h; 27 per cent by 11-20 km/h; 10 per cent by 21-30 km/h.
The highest number of speeders (60 per cent) in construction zones were found between 8 p.m. and 4 a.m.
The most speeders in construction zones were found in Fort McMurray (69 per cent); QEII southbound from Edmonton to Red Deer was 56 per cent and Calgary was 26 per cent
Source: http://vowtoslowdown.ca/stats